ABOUT US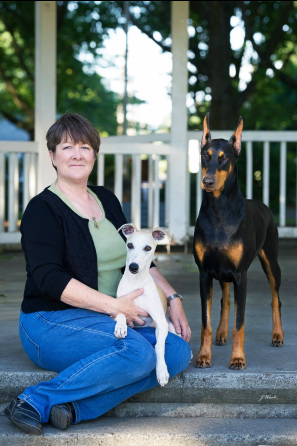 My name is Elaine Hopper and I've been involved in the sport of dogs since 1987. I owned several dogs while growing up, my first one a boxer named Bootsie adopted by my family from the neighbors who were moving away. I also owned a poodle and a minature dachshund who lived to be nearly 16, however I was always drawn to the beauty and elegance of the Doberman. Friends of my family had a Doberman and I fell in love with her. From then on I knew that someday I would be owned by one!

I'm employed by a communication company as a Central Office Technican, but my weekends and spare moments are devoted to dogs and dog shows. I bought my first Doberman from the paper, like most people having no idea of the right way to go about finding a dog. I began basic obedience classes with Jenna and progressed to competition classes. She went on to become Jordan's Lady Jenna-C CDX Can CD TT. Trained through Utility, Jenna was retired before she could earn the title due to CVI (Wobblers).

After experiencing the dog shows and getting to know many of the local Doberman folks, I decided to purchase a conformation dog that would also be able to compete in obedience. I was fortunate to have had the opportunity to own Velour, who went on to become Am Can Ch Wingate In Black Velour, Am Can CD, ROM, TT. Velour was a Grand Sweepstakes winner, Futurity Jr. winner at the National and finished his championship with 3 majors including multiple Bests of Breed and a Group 1 from the classes. As a totally novice owner-handler I even managed to put one point on him! My next conformation dog was a beautiful red bitch named Am Can Ch Bluhaven's U Got The Look CD ROM. I co-bred Kailey and she was the first dog I finished myself—my first homebred champion and the foundation of Starlaine Dobermans.

To gain handling experience I helped many professional handlers and gradually developed a client base of my own. I currently handle all breeds and have finished many dogs. I love presenting a beautiful specimen of any breed and helping them earn the right to call themselves a champion. I also teach an occasional class in conformation handling with a focus on novice owners. My goal is to introduce new people to the excitement and rewards of the conformation ring.

I have bred on a limited basis under the Starlaine prefix and I am very proud of the champions, obedience and agility titled dogs I have produced. I am a firm believer in breeding the best to the best and that includes doing all the health testing possible to assure the future of the breeds I love. I am a member of the Doberman Pinscher Club of America, the American Whippet Club, Mt Hood Doberman Pinscher Club, Puget Sound Doberman Pinscher Club, where I have held every office including president. I have helped develop breeder referral programs, which I believe to be an essential service to help promote responsible breeders and educate the public. I hope you enjoy my website!


---