PUPPIES


Please read all this information before applying for a puppy.

I breed on a very limited basis and have puppies occasionally. I adhere to the AKC standard for the Doberman Pinscher and Whippet and I abide by the Doberman Pinscher Club of America and Whippet Club of America Code of Ethics.

I sell all my companions (non-show) with a spay/neuter contract and a limited non-breeding registration.

This is not negotiable. The "white" or correctly, albino, is a deleterious genetic mutation.

I do not breed, sell or condone the breeding or selling of albino (white) or Z factored (genetically linked to albino) dobermans nor do I sell

doberman puppies uncropped (ears) or undocked (tails). The doberman is

a cropped and docked breed according to the official written standard.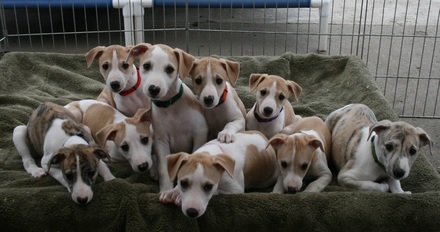 All my breeding dogs are health tested for genetic problems applicable to the breed. These are the tests I consider when breeding a litter:

von Willebrand's Disease (vWD is a bleeding disorder in Dobermans)
Hip dysplasia
Thyroid function
Liver function
cardiac screening (holter monitor/cardiac ultrasound)
CERF (vision test)
BAER (hearing test for Whippets)
---
I do all testing and make all considerations possible to ensure I breed healthy, long lived well tempered dogs. I believe that is a responsible breeder's duty. However, these are living creatures and even with a slate of health tests, I cannot guarantee the health of any dog for it's lifetime. It is up to every buyer to educate themselves about these issues and accept the possibility of health concerns based on the breed history. It is also every buyers responsibility to make sure a Doberman or a Whippet is the right choice of dog for their household.

All puppies are given their first vaccinations. They have been de-wormed and have had their dewclaws removed (Whippets), and dewclaws, tails docked and ears cropped (Dobermans). If you are local, I also include all aftercare for the cropped ears until they are standing correctly. All puppies are placed with a "puppy packet" that includes AKC registration, health records (including those of sire and dam), 5 generation pedigree and photos along with literature on crate training, housebreaking and general care. I require the signing of a written contract and have a refund/replacement policy whether for show or companion puppies. I also require any puppy I place to be returned to me should at any time the buyer become unable to keep the dog for any reason. This is also not negotiable. If you are interested in being considered for one of my puppies, I first require you fill out my puppy application and return it to me. I require references and they will be verified. Once I have your application, I will contact you to discuss puppy availability. If I do not have a litter currently, I will gladly direct you to other responsible breeders in the area. I can also refer you to some good breeders out of state.



If you are interested in a Starlaine puppy, once you have read all the information above, e mail me for an application.
One I have your application I will send you more information about how I do things and then I will add you to my contact list.


Without an application I cannot add you to my waiting list!